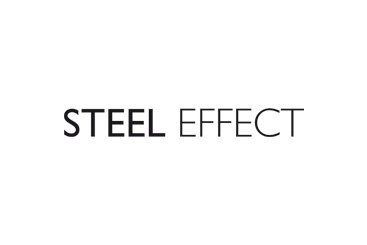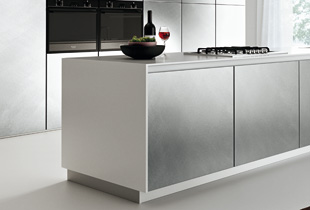 The
Steel Effect
range offers two interpretations of natural steel: "foil" with lighter, brighter tones, and "oxidized" with warmer tones and a more "lived-in" appearance, available in eight different nuances selected on the basis of an analysis of current trends in the world of design.
The effect is produced through a coating cycle (on MDF panels or melamine paper) that combines the lacquered gloss coating with the steel-effect metallic coating. The light scratches on the surface provide the minute detail that makes the surface an even more faithful reproduction of steel and, accentuated by the reflection of the light, generates undertones and a sense of movement.
Aesthetic effect similar to steel.
Combines the warmth of wood with a steel-effect look.
Creation of unique effects by adjusting the following variables: color tone of the polyurethane gloss base, opacity, coloration (if applicable) of the steel-effect coating and of the final top coat.
Suitable for application to three-dimensional objects.
Good chemical/physical resistance.
Excellent resistance to light.
Suitable for these requirements
Are you interested in this range?
DOWNLOAD BROCHURE
Urban Matter