Pre-finished wooden flooring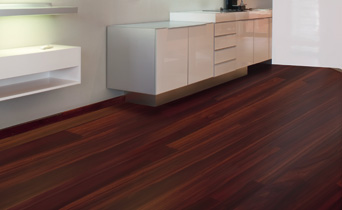 Wooden floors are, without doubt, a main feature of the current trends in residential and contract construction. For this reason, ICA Group's Research & Development laboratories decided to design a range of coatings for pre-finished wooden flooring.
Performance and aesthetic advantages
The range of UV coatings for pre-finished wooden flooring makes it possible to achieve high levels of productivity with low levels of environmental impact, delivering the right chemical/physical characteristics required of coatings for wooden flooring, including hardness, chemical resistance and resistance to abrasion. The correct balance of the chemical and mechanical characteristic across the various coats that compose the coating cycle is an essential factor in optimizing the final result.
The tests carried out by the ICA Group laboratory on pre-finished wooden flooring mostly concern adhesion to the surface, in order to check the effective anchoring of the coating film to the wood; resistance to abrasion, simulating the wear-and-tear of the flooring when it is walked upon; and resistance to chemical agents (water, alcohol, ammonia, wine, coffee, etc.) and to commonly used cleaning products.

Color is a fundamental aspect in coatings, and so ICA Group invests heavily in the development of new shades and effects, which have become essential embellishments for wooden flooring, too. ICA Group provides customized products that are designed to meet the needs of its client base.
Application
ICA Group has developed specific coating cycles for all application requirements (roller, spray, curtain- coating).
Products with low levels of environmental impact
ICA Group's solvent-based and water-based products for pre-finished flooring endow the floor with excellent chemical/physical performance levels (whether open-pore or closed-pore), and produce low levels of emissions of volatile organic compounds (VOCs). Alongside these advantages, the water-based products give the wooden floor with a more natural look than can be achieved with 100% acrylic coatings, thereby ensuring excellent results in terms of quality and aesthetics.
The recommended products for this sector
The best ranges for this sector