Marine interiors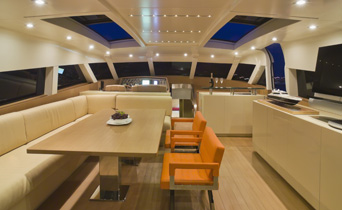 Interiors for boats tend to follow the latest trends in domestic and contract interior design, and for this reason, the ICA Group R&D laboratory has developed specific cycles for the coating of marine interiors.

For this sector, ICA Group has come up with solutions and coating cycles that have the capacity to comply fully with the strictest tests deriving from the Marine Equipment Directive (European Directive 96/98/CE). The Directive's certification concerns the marking and marketing of the equipment used on, and fitted to, non-military vessels registered in any country. The group has had various transparent and pigmented coating cycles certified by RINA, a notified body for the certification of equipment pursuant to the Marine Equipment Directive.
You may also be interested in
Performance and aesthetic advantages
In addition to the aesthetic requirement to align the styling of marine furnishings with that of domestic interior design, there are also specific performance requirements that these coating products must guarantee.
Thanks to its experience in this sector, ICA Group has succeeded in perfecting coating cycles that are able to deliver high levels of chemical/physical resistance and elasticity.
Products with low levels of environmental impact
ICA Group has formulated a complete series of water-based coatings that offer the tangible opportunity to reduce both environmental impact and the risks to the health of the person applying the coating. Indeed, ICA Group's water-based coatings can easily be used in place of traditional solvent-based coatings without compromise to the chemical/physical or aesthetic properties of the coating.
The recommended products for this sector
The best ranges for this sector