Contract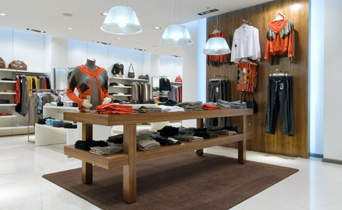 Contract furnishing is a service for the production of furniture and interior design solutions (sometimes customized) for hotels, bars, restaurants, offices and, more generally, all public premises.
The watchword for this sector is creativity, which takes its place alongside the focus on the external environmental in which the structure to be furnished is located, the type of activity carried out there, etc.

Over the years, ICA Group has specialized in the creation of customized products to match the individual client's specific requirements, making its contribution from as far back as the design stage into the furnishing of prestigious hotels, chain stores, theatres, etc.
Thanks to the experience it has built up over the years, ICA Group is a partner that has what it takes to provide effective advice on the best product solution, to come up with all-new effects and on-trend colors, and to respond to the client's customization requirements.

In addition, ICA Group has created a specific range of fire-retardant coatings, called Iridea Fire Retardant, which can also be used in contract sector, as and when required.
You may also be interested in
Performance and aesthetic advantages
ICA Group's products are able to satisfy any set of requirements in terms of performance and aesthetic results. The products' high levels of customization and versatility, alongside the group's capacity to respond in next-to-no-time to the client's requests, ensure that the maximum levels of chemical/physical performance are consistently reached, with excellent aesthetic and tactile results also assured. The group has the capacity to implement customized projects for the client and to achieve, with support from its in-house R&D laboratory, the result desired by the designer.
Application
Here, too, the very high level of customization of the products intended for use in this sector means that ICA Group has the capacity to meet all application requirements, both for artisanal processing operations and for industrial-scale manufacturing.
Products with low levels of environmental impact
Over the years, ICA Group has always tried to offer its clients coating cycles that have low levels of environmental impact, thereby ensuring compliance with the regulations on solvent emissions into the atmosphere.
The recommended products for this sector
The best ranges for this sector