ECO-FRIENDLY TECHNOLOGY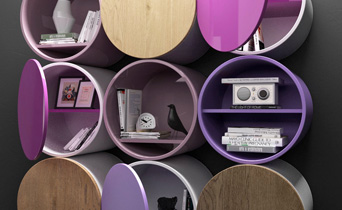 On the basis of the experience it had accumulated since the early 1980s in the field of water-based coatings, in 2000 ICA Group's Research & Development laboratories once again laid down a new challenge to the market through the formulation of the first water-based products that could be dried with UV lamps. Today, after more than a decade, ICA Group benefits from the input of a team of researchers who deal with these products on a full-time basis.

Water-based UV coatings can be considered aesthetically equivalent to bicomponent acrylic and polyurethane solvent-based coatings. The range is composed of both pigmented and transparent products. In this latter case, the main characteristic is the ability to achieve almost any color without limitations to the shade, with excellent coverage and light stability, thereby overcoming the typical limits of polyester or acrylic UV coatings. Thanks to their physical drying, water-based UV coatings even make it possible to coat three-dimensional objects. Last but not least, it is possible to carry out mixed coating cycles when necessary, using acrylic UV base coats and water-based UV top coats, which make the most of the advantages of the two types of technology.
Primers and sealers
Primers are intended to ensure maximum adhesion to the substrate and a high level of resistance to overcoating. Sealers are designed for roller application to improve adhesion on veneer or solid wood containing oily substances.
Transparent water-based UV primers and sealers
Base coats or fillers
Base coats or fillers ensure adhesion to the surface and immediate sandability after drying with UV lamps.
Transparent or pigmented water-based UV coatings (including dual cure)
High solid content transparent water-based UV coatings
Top coats
A wide range of types that differ in terms of brilliance, transparency, distension and chemical/physical resistance.
Brushable water-based UV coatings, matt and gloss (from 5 to 95 gloss), transparent or pigmentable with the ICA COLOR system, applicable over water-based or polyurethane UV base coats and polyester or acrylic fillers, both transparent and white
Use