TECHNOLOGICAL APPROACH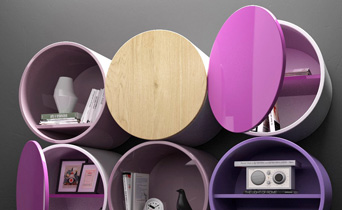 Ongoing research into cutting-edge technical solutions, and partnerships with leading names in the production of coatings systems, have together enabled ICA Group to formulate acrylic, polyester, and polyacrylic UV coatings that comply with the most stringent testing requested by clients, who find in these products a tangible response to their requirements for quality, productivity and reduced levels of atmospheric emissions.
Polyester and polyacrylic UV coatings are widely used for the coating of flat panels, thanks also to the value for money they represent; moreover, they are sufficiently reactive for the required line speeds and offer a good level of finish. They are formulated with unsaturated polyester resins dissolved in styrene. The styrene functions as a solvent and has the capacity to react with the resin and, therefore, to contribute to the total solid content of the coating.

Polyacrylic coatings combine the characteristics of polyester coatings and acrylic coatings, offering excellent value for money.
Surfaces: flat veneered surfaces, solid wood, MDF or chipboard, melamine paper and decorated paper.

Compared to polyester UV coatings, acrylic UV coatings have a lower level of environmental impact, since the monomers they contain have a far lower level of volatility with respect to the styrene contained in polyester UV coatings, and they therefore make it possible to achieve products with 100% solid content.
ICA Group's acrylic UV products offer excellent elasticity, adhesion and chemical/physical resistance. In addition, through the use of appropriate primers, they make it possible to resolve the problems that typically affect resinous woods and issues relating to adhesion on difficult surfaces such as melamine paper, plastic and glass. Thanks to their reactivity, the products specifically formulated for the coating of profiles and frames satisfy the requirement for processing at high transport speed, which is a very common requirement in this sector.
Surfaces: flat and three-dimensional veneered surfaces, solid wood, MDF or chipboard, melamine paper and decorated paper, metal, plastic materials and glass.
Primers and sealers
Primers are intended to ensure maximum adhesion to the substrate and a high level of resistance to overcoating. Sealers are designed for roller application to improve adhesion on veneer or solid wood containing oily substances.
Transparent polyester UV primers
Transparent and pigmented acrylic UV primers
Base coats or fillers
Base coats or fillers ensure adhesion to the surface and immediate sandability after drying with UV lamps.
Transparent or pigmented polyester UV coatings
Transparent or pigmented paraffinated polyester UV coatings
Transparent or pigmented acrylic UV coatings
Transparent or pigmented polyacrylic UV coatings
Top coats
A wide range of type that differ in terms of brilliance, transparency, distension and chemical/physical resistance.
Polyester UV coatings, matt or gloss (from 5 to 95 gloss), transparent or pigmentable with the ICA COLOR system, applicable to UV base coats or fillers
Paraffinated polyester UV coatings, transparent or pigmented, with the ICA COLOR system
Acrylic UV coatings, matt or gloss (from 3 to 95 gloss), transparent or pigmented, with the ICA COLOR system
Polyacrylic UV coatings, matt or gloss, transparent or pigmentable with the ICA COLOR system