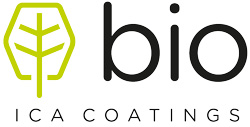 A NEW HORIZON OF ENVIRONMENTAL SUSTAINABILITY
Oil-free, CO₂ emissions cut and attention to people's health.

This brand-new product line from ICA Group shakes up the chemistry world achieving new goals. BIO water-based coatings are made with recycled raw materials and through a production cycle with a lower environmental impact.

DO YOU WANT TO GET MORE INFO ON BIO COATINGS?
The creation of outstandingly innovative products like the BIO range is the result of several years of study, experimentation and collaboration with a leading international company in the chemical industry – DSM from Holland.
The result is a range of products with is high-performance, eco-friendly and with an upright production cycle.
WHY ARE BIO COATINGS THE FIRST OF THEIR KIND?
BIO water-based coatings
are made with non-toxic and eco-friendly renewable raw materials (water + BIO resin), with a very low VOC content (volatile organic compounds) and through a production cycle that drastically reduces CO₂ emissions.
In addition to being highly sustainable, these coatings set new standards in terms of performance and quality for the chemical industry.

BIO coatings help to reduce the greenhouse effect caused by CO₂ and are in line with the latest green policies adopted around the world.

SUSTAINABLE BIO COATINGS
For interiors and exteriors, with an upright production cycle
We all should consider how we can reduce our impact on the environment. ICA Group took on this challenge creating a more sustainable coating compared to oil-based products, thanks to the use of renewable sources.

Tests have been run on BIO coatings in collaboration with the University of Camerino and the Sapienza University of Rome, in order to assess the biogenetic nature of the materials used.
This is a further proof and guarantee that IRIDEA BIO and ARBOREA BIO are innovative products, but above all are sustainable for the environment and for the health of those who live it.
BENEFITS
Why choosing BIO coatings?
BIO water-based coatings are a significant step forward in industrial wood coatings. Companies who decide to replace their existing use of coatings with BIO products benefit from improved working conditions, and can also offer their clients a product which is in line with the latest green policies.

Fill out the form to learn more.
If you want to know more about IRIDEA BIO, fill out the form and we'll get back to you asap.
testo